Tuesday 17th September 2019 saw ServiceNow's flagship conference, Now at Work come to London's ExCel. Despite mirroring these events in 10 other cities, globally, throughout the year, London still pulls a crowd of some 2,500. It was my 9th year in attendance (if you include all its former identities – most recently the NowForum) and what is all the more evident every year I attend is the rapidly increasing popularity of the platform. Each time the event feels bigger and better. Some delegates are coming to explore the platform in more detail and make important business decisions about whether this is the right ITSM solution for them, but most in the room are already users and are there to stay abreast of the twice-yearly major upgrades and hook up with fellow ITSM enthusiasts, share experiences and explore new ideas.
This year the agenda was shaped around employee experience, bringing the user experience more in line to what we have come to expect from the functionality of our smartphones, Amazon or Google. Not surprising really that these tech titans are leading the way but it's extremely promising to see that an enterprise solution like ServiceNow is focussed on masking complexity to the end user and creating end to end automation. At KA2 we differentiate ourselves by not providing ITSM solutions in isolation, but aligning them to the organisation's objectives, and weaving in areas such as InfoSec and the digital workplace. Specifically, in financial services there is heightened pressure to increase productivity, reduce risk and cost and also attract the best talent. In order to fulfil all these objectives, we need technology platforms like ServiceNow to underpin this innovation and enable us to take our clients to the next level.
On the subject of innovation, I was invited to an exclusive session on the second day of the conference which was hosted by the ServiceNow Innovation Office, which includes Chris Pope, ServiceNow Global VP of Innovation and Paul Hardy, ServiceNow Chief Innovation Officer EMEA. Named an 'Innovation Experience', I was asked to attend as a result of my role as lead ITSM SME at NatWest Markets (NWM), alongside NWM's Amanda Hepple, Head of Service Management and Chris Hynes, Global Head of Infrastructure. KA2 continues to work closely with NWM, as it has done over the past 20 months, to implement and further enhance the ServiceNow platform (we successfully pushed the button to go live in August 19).
The 'Innovation Experience' was an interactive walk-through demonstrating how ServiceNow can support business processes intuitively from a mobile device. Our journey was a business trip overseas, in this case the beach in San Diego. Travel was booked, laptop replaced, credit card limit increased and expenses submitted, all with simple clicks on a mobile device. For a firm like NWM these digital workflows are things we will be looking to implement in the future across all areas of the organisation.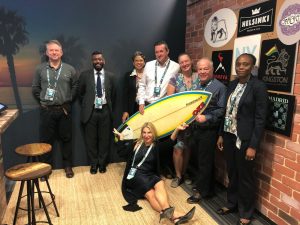 Armed with the picture of me and San Diego surfboard, I was free to join a networking lunch with some senior industry ServiceNow users. With 21 years of ITSM experience under my belt, speaking to fellow users and learning of their real-life encounters is one of the most valuable benefits to be gained from attending these types of events. Drawing on these learnings is what enables us at KA2 to continue to empower our customers to drive value from this core function of the business. Whether it's ServiceNow or another ITSM solution, the challenges are often similar and peer to peer collaboration is what we need to overcome these and deliver best results.
As mentioned, one of our key capabilities at KA2 is designing and implementing digital workplace solutions so I was especially interested to see the Microsoft Teams integration in action. Collaboration tools are two a penny, but it seems like Microsoft is really gaining traction with their one-stop-shop work environment. KA2 are avid proponents of Teams as an enterprise tool in our business and I am looking forward to experience first-hand how its evolution helps us, and our customers collaborate more effectively.
It's clear that ServiceNow is investing heavily in the future – and that fills me with confidence but in the same breath there is still a sense that some organisations are unable to realise their investment in this heavyweight platform. It's not a cheap option and all too often I hear about firms who really struggle to develop integrated experiences, seamlessly upgrade to the latest versions and become self-sufficient to keep the platform moving forward. KA2 delivers an approach, powered by our Smart Methodology, which is proven to lay the foundations for an efficient, cost effective and long term ServiceNow capability. By considering InfoSec and Digital Workplace as integrated elements from the outset, you create an environment which has automation and seamless experiences built from the inside out. I was therefore delighted to hear from some fellow peers that they believed our approach to be original and a step ahead of the competition in this space! Praise indeed.
I've already got the date for the next Now at Work in the diary but in the meantime if you like the sound of 'peer to peer collaboration' then contact me to learn more about KA2's ITSM Smarter Forums; the next edition in November will be hosted by NWM in their London HQ.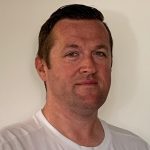 Lewis Martin, Head of ITSM and ServiceNow, lewis.martin@ka2.io.