A practical guide to sustainability regulations, innovation, and best practices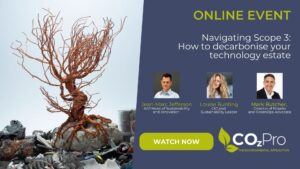 Did you miss our latest online event?
The EU's Corporate Sustainability Reporting Directive requires companies to disclose the environmental impact of their activities, including Scope 3 emissions. The rules will apply from January 1, 2024, for large EU and EU-listed companies, and will apply to all in-scope companies by January 1, 2028.
This is an important step towards transparency and accountability in reporting emissions and the transition towards a sustainable economy.
But there is still a lot of ambiguity and confusion surrounding Scope 3.
Our event covered the important topic of corporate sustainability reporting and provided a comprehensive understanding of Scope 3 emissions, regulations, and their impact on business today.
Our panel of experts – green tech innovator Jean-Marc Jefferson, CIO and sustainability leader Louise Bunting and digital sustainability advocate Mark Butcher talked through the process of measuring, managing, and reporting on the embedded CO2e of your IT hardware estate to demonstrate your journey to carbon net zero.
But if you missed our event, don't worry, It's not too late to get involved in the conversation. If you are looking to stay ahead of the curve on sustainability regulations, innovation, and best practices, you can watch the full event on demand by completing the download form.
Don't miss out on this opportunity to gain valuable insights and start your journey towards net zero. WATCH NOW.