KA2 is excited to announce that they are one of the lead sponsors of the FStech Awards 2020. This annual ceremony celebrates excellence and innovation within the UK and EMEA financial services sector. KA2 is an expert technology transformation consultancy specialising in the financial services and insurance sectors and is delighted to be associated with such a prestigious event.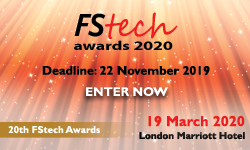 The deadline for entries has been extended until Friday 6th December 2019. It is free to enter and this year they have introduced eight new categories. Click here to enter.
The shortlist will be announced early 2020 and then there will be a gala dinner on Thursday 19th March 2019 at the London Marriott Hotel, Grosvenor Square.
This is 20th year running for this prestigious and well recognised awards dinner. The categories cover a wide range of areas such as; Most Innovative Product of the Year, Most Disruptive Financial Sector Technology and Best Use of Data & Analytics – to name a few.
Chriss Andrews, CEO of KA2 comments; "Personally i have been a long time supporter of the FSTech Awards and so it seemed a great opportunity for KA2 to get involved. The FStech Awards attracts all of the leading financial institutions and technology providers. I am look forward to seeing which companies are leading the charge this year and also learning about some of the newer Fintech firms on the scene.".